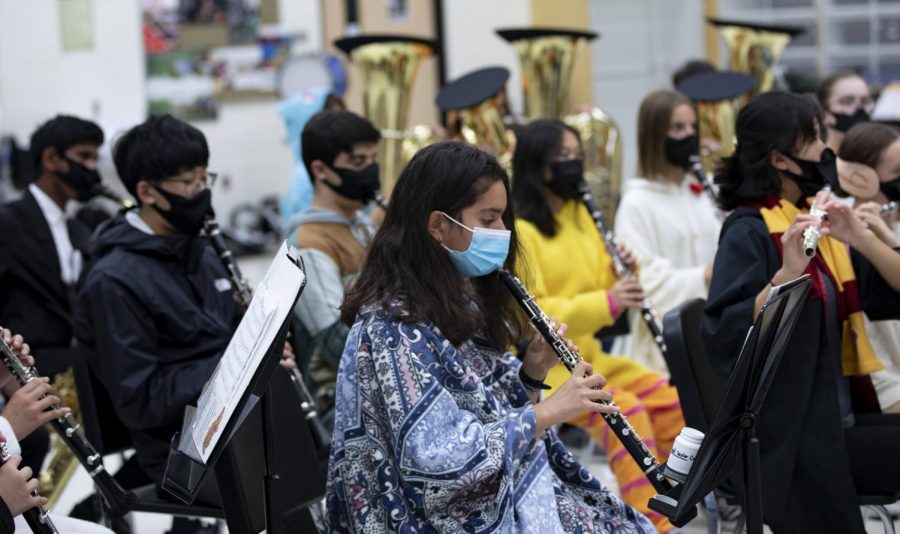 With bows on strings and mouthpieces out of cases, playing in an ensemble for the first time in over a year with over sixty other peers in the room gave Pioneer students a familiar sense of musicianship. 
Music classes last school year took away the communal experience as students would only hear the echoes of their own instrument reverberating off the walls, other instruments blaring through their headphones.
Last year, Pioneer utilized Upbeat Music App, an app that syncs up musical video recordings, to create performances virtually.
Pioneer senior Zach Edwards who plays for the Pioneer Bands said, "UpBeat was a really great alternative to playing online. Other programs wouldn't have been as well-off and doing it through Zoom would've been nearly impossible so it was a really great way to just hear other people play."
But Edwards, like many other students, missed being in-person. It came as no surprise that the return of the annual Interlochen summer camp this year and the in-person school were just what Pioneer musicians needed. 
"I was so excited to get back and play with everyone. I even missed playing scales at band camp because the whole atmosphere was amazing," Edwards said. 
Junior Ellen Ruan, another member of the Pioneer Bands, agrees. "It was so exciting to see everyone in the band again and play music we all love," Ruan said. "Especially in flags, we got to be creative in our routines. During games, the excitement in the stands from students was such a welcoming feeling after a whole school year of isolation."
Orchestra students share a similar sentiment. "Playing alone was fun, but there's something about being in a live orchestra that brings joy," said Pioneer junior Ashley Kou, a violinist in the Pioneer Orchestras. "This applies to all ensembles. I'm sure that the band and choir are equally as excited to be in person with each other as we are." 
Pioneer Orchestra Director Jonathan Glawe shared his gratitude for the opportunity of playing together in person again. "I have really enjoyed being around students, and bringing the ensemble nature of what we do to life," he said. "Students signed up to play in an ensemble, live, in-person, and being able to do that is a blessing and we appreciate every moment."
With the return to class, the music department ensembles have revived traditions and events. The orchestras have brought back their annual Section Pride, a one-day, light-hearted event to help ease nervous tensions before seating auditions. Each year, sections compete in various categories such as tuning and each sections' ability to succinctly perform audition excerpts as sections coordinate different themes for the best-dressed category. 
"I thought it was fun how everyone put a ton of effort into dressing up and being competitive, and it was a nice change after not being able to do anything like that for the last year," junior Max Janevic said about this year's Section Pride. 
Pioneer bands also had their All-Hallows concert on Tuesday, Oct. 26 at Skyline High School, a new performance venue after the discovery of mold in the Pioneer theaters. After losing the last opportunity to play at the homecoming game as well due to severe weather, many band students were excited to get back to performing. Looking forward, future concerts offer renewed excitement.
Junior Sakthi Vijay who plays the bass clarinetist said, "I think I'm really excited to be playing with the rest of my section for the first time in 18 months. I definitely realized how much more fun it is to be in person during band, and I'm really interested in how our first in-person concert will be after so long."