A Month for Everyone: National Novel Writing Month club encourages students to write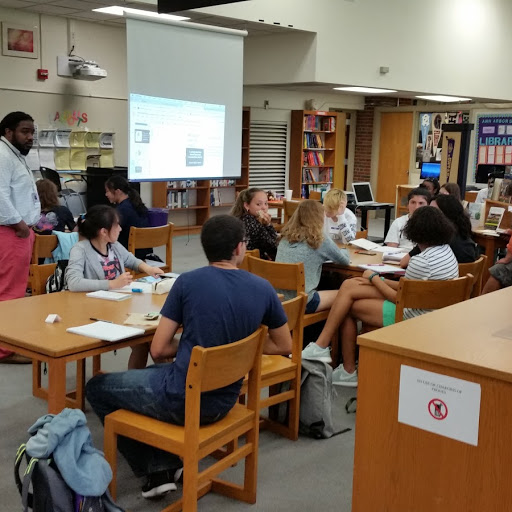 Hang on for a minute...we're trying to find some more stories you might like.
There are countless reasons to be excited for November; the first snow of the year, Thanksgiving, and black just to name a few. But to a small minority, November brings the joy and trepidation of national novel writing month. It is a 30-day competition, where contestants attempt to write a 50,000-page novel and it is coming to Pioneer.
NaNoWriMo is a new club available for all students this year at Pioneer. English teacher Amy Perry and intervention specialist Marquin Parks are spearheading the program with the help of Angela Knight a fellow teacher and NaNoWriMo enthusiast. Knight has written hundreds of thousands of words for NaNoWriMo and is nearing one million. Her accomplishments may sound like a daunting feat to take on but for Knight, the seemingly overwhelming amount didn't intimidate her. "The reason I started doing this in the first place is that it is all about quantity," Knight said, "all you have to do is type a lot of words." Knight also emphasized the intense fortitude and stream of consciousness writing it takes to compete in NaNoWriMo. "Kill your inner editor and that little voice that lies in your head and says this is awful," Knight said, "and if you get stuck… describe a farm."
That kind of seat of your pants writing that is unavoidable when trying to achieve the 1,667 words a day required to win the NaNoWriMo challenge. Such a strong emphasis on quantity over quality is contrary to what most students at Pioneer have learned about good writing. But Park thinks that the freedom to just write, without fear of getting graded or judged, is part of what makes the NaNoWriMo experience so special and important. He thinks NaNoWriMo pushes your writing to develop beyond just another tool needed to pass classes into a powerful way to unlock emotions and express your feelings. "You don't have to write this in order," Mr. Park said,  "wright based on how you feel. If you're feeling unhappy right and pour it into that area." Researches who devote their lives to studying and understanding the nuances and effects of writing like Donald Graves support what Park is saying. "When writers write every day, they begin to compose even when they are not composing," Graves said, "They enter into a constant state of composition."
Other experienced competitive writers agree that participating in an event like this can be extremely beneficial. Abigail Ng is a senior at Pioneer who has not just participated in but beaten the NaNoWriMo challenge for each of the past couple of years. Ng says that the NaNoWriMo experience doesn't just help the participants writing but can be positive in so many other ways. "It's really helped me learn how to manage my time better," Ng said. There is no doubt that discipline is pivotal to any would-be competitor as the NaNoWriMo community banks even the lowest of outlining or preparation prior to 12:00 am November first.
Beyond sharpening your mind and your pen NaNoWriMo can have a legitimately deep and profound impact. "Creating stories and characters gives me insight on how the world works," Ng said. "Writing about different experiences makes me more confident handling my own life experiences."