Annual pep rally canceled due to threat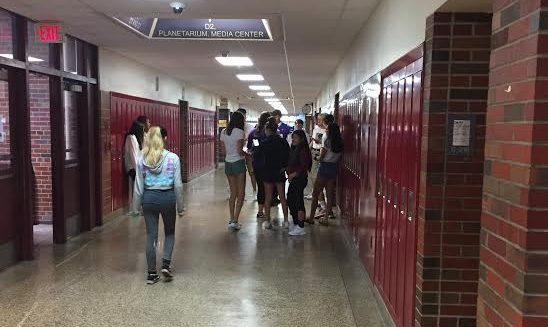 Editor's Note: This story has been updated to reflect new information.
Pioneer's annual Homecoming pep rally was abruptly canceled only a few minutes before it was scheduled to begin today after school officials learned of a threat made by a student.
Just as students were ready to leave their first hour classes and head to the football field for the pep rally, Pioneer Principal Tracey Lowder came on the school's public address system to say it had been canceled. Some classes had already been dismissed to head to the rally. The administration's initial understanding was that a student had threatened to disrupt the pep rally with violence, but Pioneer Principal Tracey Lowder says they have since learned that the threats allegedly made by a student over social media were directed at specific people he was having a disagreement with, not the larger school community.  "Our communication (was) that we had a student who made threats via social media," Lowder said. "As a result of us taking those threats seriously, the pep assembly was postponed." 
The abrupt cancellation caused distress for many students as rumors began to circulate. Following the announcement of the pep assembly's cancellation, students located in the cafeteria and annex gradually became concerned as talk of a potential school shooter began to spread. Halfway through the second hour, many students ran outside towards the tennis courts, under the impression that a shooter was in the vicinity. "I was terrified for my life," said senior Allison Dabrowski, one of the students to run outside. 
Lowder, though, says that no threats were ever within the building. "[The student who made threats] was never at school," Lowder said. "He was never in the building. He was interviewed and detained by police at his home this morning, so he was never on our campus today. He was never here to follow through with anything that he threatened."
The Optimist reached out to the Ann Arbor Police Department this afternoon who said while there had been an incident as described by school officials, the AAPD could not release any further information.
Some students say that, despite an email to parents which said Pioneer was not entering a lockout, they were prohibited from leaving campus by administration officials due to the school being under a "soft lockdown." Lowder, however, says that students may have misunderstood the nature of these prohibitive measures. "Students were already on their way to the field (for the pep rally) and they were told that they couldn't go," Lowder said. "They weren't told that they couldn't leave the building, they were told that they couldn't go [to the pep assembly] because we were, at that point, still trying to gather information."
Despite the necessity of these safety measures that took place, many students were saddened to see the pep assembly cancelled. "I'm really disappointed because it's my senior year and this is my last Homecoming and the last time I can do all of this with my friends," said senior Jad Merie.
 Concerning the football match and Homecoming dance that the pep rally typically precedes, these events will go on as scheduled. Typical safety procedures have been enforced for the football game, as Pioneer students were instructed to bring their student IDs for entry and backpacks were banned. Additionally, plans for a second pep rally are in the works among administrative staff. "We'll reschedule the pep assembly probably before we play Skyline at home or before we play Huron," said Lowder.