Juwan Howard comes home to Michigan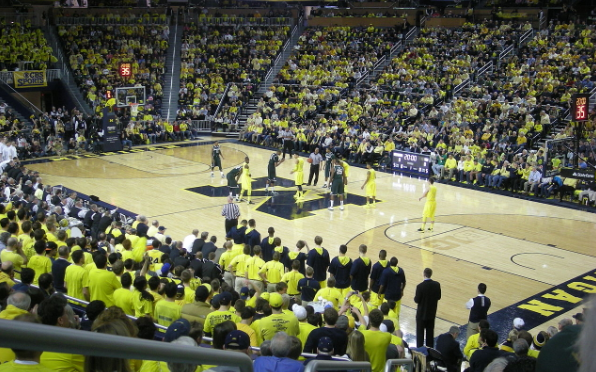 When John Beilein announced he was leaving his head coaching position for the University of Michigan Men's Basketball team in May, it was a major shock to Michigan fans. Some fans feared that everything Michigan basketball had become would crumble. Just nine days later, however, the arrival of a familiar face gave the Wolverine faithful reason for optimism yet again; Juwan Howard.
Over the twelve years Beilein spent at Michigan, he amassed an impressive resume, including a sixty-five percent winning percentage, nine NCAA tournament appearances, and two Final Fours. Pioneer sophomore and member of Josiah Schaafsma was in disbelief when he heard about Beilein's abrupt departure to the Cleveland Cavaliers of the NBA. "It was so unexpected," he said. Pioneer Sophomore Peter Florence didn't see Beilein's sudden exit coming either, "My initial reaction when Beilein left was great surprise, because there weren't any rumors about it," he  added, "I just opened the ESPN app and it said Beilein to the Cavs." Then entered Howard, a Michigan basketball icon, NBA champion, and former Miami Heat assistant coach. Howard's move reflected a growing trend in college basketball, of star players coming back to coach at their alma-mater. Recent examples include, Penny Hardaway's return to Memphis and Patrick Ewing to Georgetown.
Howard's graduation class, nicknamed the fab five, were the most heralded freshman class in Michigan basketball history. They lead Michigan to the national championship game with four out of the five freshmen in the starting lineup. Howard would go on to play two more years at Michigan, averaging 18 points and 8 rebounds a game. He finished his career as a Michigan great. 
The hire of Howard helped put many Michigan fans fears to rest, including Pioneer Senior Drew Allen's. "After I heard Juwan Howard might be the coach I was fine because Juwan Howard was part of the fab five," he added, "He's the man." Many fans are now very optimistic about the future of Michigan basketball. 
Some fans, like Allen, already expect Howard to find success, "I think they are going to be front contenders in the Big Ten along with Michigan State," he said. Florence on the other hand, believes that the loss of players from last season to the NBA, will have a significant impact. "It will be kind of rough, because Brazdeikis, Poole, and Matthews left, which was half of our scoring last year." he said. 
Allen and other Michigan fans want to see Howard take the Michigan program to another level. "He's going to win a couple championships," Allen said. Allen thinks he can take the team further than Beilein, and while he acknowledges Beilein's successes he says, "at the end of the day I would rather have Juwan Howard,".  Peter Florence chipped in saying "Long term I think Howard will be better." 
With only one regular season game under Howard's belt, a win over Appalachian State, it is far too early to be comparing his tenure to Beilein's. It's anyone's guess as to whether a national championship is truly in the cards for Michigan. It is clear however, that there is a belief among some fans that Howard not only can achieve the success' Beilein did but potentially go ever further.