Pioneer Theatre Guild goes virtual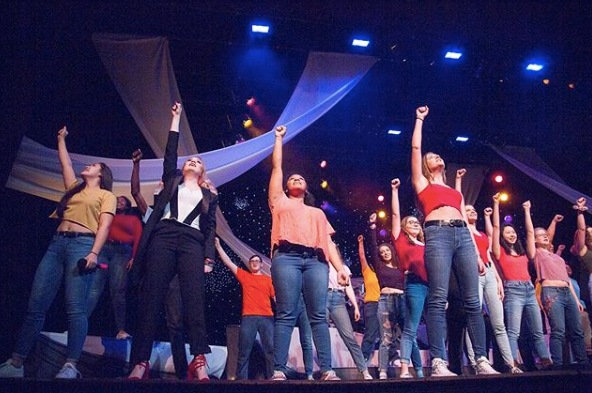 A year ago, Pioneer students would be crowded around the doors of The Little Theater, anxiously awaiting the results of the fall musical auditions, but this year everything is different. Because of the pandemic, school activities are no longer able to be active in person, so the Pioneer Theatre Guild is trying to involve students in theater from behind their computer screens. 
"PTG usually produces two musicals, FutureStars, a straight play, StudPros, and a few Comedy Troupe performances every year. This year is slightly different," said Jayme Kelmigian, a co-sponsor and the co-director for the Pioneer Theatre Guild. "We have chosen to produce a series of short plays that are a part of the 'Play At Home' project."
The Play At Home Project is a series of short plays commissioned for this time of isolation to create creativity and connection through theater. These plays are created at home and are able to be downloaded and shared with anyone. 
"Students will direct, stage manage, act in the shows, and serve as the crews virtually," said Kelmigian. "We decided to have more student leadership so they can have a more hands-on part of the process." 
President of the PTG student board Martha Laramore-Josey, a senior at Pioneer, said the Play at Home project is the best option for doing theater virtually. "Play At Home is an amazing project, and I think working on the plays will help us create a sense of family and community," she said. 
Many PTG students are looking forward to trying something different this year. 
"I'm excited about getting involved in theater that isn't musical related, because I don't have as much experience in it," said junior Zoe Reséndez ,who is also a member of the PTG student board. 
Theaters all around the world have been looking for ways to continue producing art without a live audience. According to Time Out New York magazine, many performing arts have been turning to live streaming, an option that PTG is working towards. 
"The idea is that we film each play and have a livestream showcasing all of our work," Laramore-Josey said. 
The PTG is still working on the specifics of how and when the Play At Home Project will be finalized, but Kelmigian expects viewers to see the completed show sometime in December.
The Play At Home project is not the only thing Pioneer Theatre Guild is planning for this year. 
"We are also looking to offer masterclass conversations with professionals in the industry, both actors and those who work on crews, as a way to keep educating PTG members about the theater world," Laramore-Josey said. 
Members hope to continue the school's annual FutureStars event, a talent show including singing, dancing, rapping and instrumental performances, as well as a straight play non-musical theatrical production, and even a musical in the spring.
Auditions are also expected to look different this year. Kelmigian said that students will record and submit their auditions through Flipgrid, a popular education tool by Microsoft Education for virtual learning. After submitting their auditions, PTG program directors will then "work together to cast the shows."
Starting off the year virtually hasn't come without challenges. 
"I think that getting people to be excited about theater will be difficult on line,¨ said Reséndez. "Theater is so great but now it's not how it normally is." 
Pioneer freshman Olivia Callanan has been looking forward to joining Pioneer Theatre Guild for a few years. "I think theater online is going to be a little weird, but I'm still super excited to see what comes of it," Callanan said. "I just hope to meet people and perform or create in whatever way I can this semester." 
Despite the challenges, Reséndez encourages everyone to join PTG. "We're all doing something new this year so we're all in the same boat of exploring this new virtual way of life," she said. 
Laramore-Josey agrees. Although everyone is used to theater to being in-person and hands-on, the virtual platform could still allow for a rewarding experience and sense of community. 
"I'm confident that the heart of PTG will remain the same whether or not we are in Schreiber Auditorium," she said. "I think we are making the best of the current situation for sure."