Gabby Pacifico: Guiding students through online school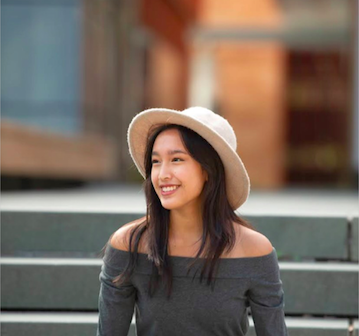 The 2020 school year was met with confusion from students, but Pioneer senior Gabby Pacifico is actively making it easier on everyone through her informative Instagram page: pihi.info. The page has become so popular that students in the school now find it a lifeline to the myriad questions they have about the confusing, often chaotic, online school process.
Pacifico, 17, gets the information about the school from her mother's Pioneer parent emails, the Pioneer High School website, and the Pioneer Counseling Department. An Ann Arbor native, she runs the account independently, though interested followers frequently update her as well.
"Sometimes [the followers] email their counselors and give me the information they find out, or the questions they ask me will prompt me to do research," said Pacifico.
Pihi.info wasn't something that Pacifico had planned to make during her last year at Pioneer. 
"It was a very spur of the moment decision," said Pacifico. "I literally came up with the idea and made the account a few minutes later and started posting the schedules and notes from the parent meeting slideshow that the school gave." 
The announcement of a new block schedule and the confusion over standardized testing further bolstered Pacifico to create the social media page. Being virtual for school made Pacifico feel that others would need extra support during these times. "I probably wouldn't have made it if we weren't doing school online," she said. "There was so much uncertainty and I had all this information that I was sure that other kids my age needed to know." 
As it turns out, many people find her information useful. Pacifico has gained over 700 followers, and posts nearly everyday, keeping Pioneer students up to date on relevant school information.
Porter Malcolm, a Pioneer junior, visited the site and is now a follower. "I really find the reminders provided by the account to be helpful," he said. "I feel like half the stuff happening in school I would totally forget about without it."
Pacifico posts a variety of items on her page, including testing schedules, information for AP classes, and club information. She poses questions for her followers in her stories, including their thoughts on Zoom breakout rooms, and the workload for students. 
Additionally, much of what she does is geared towards upperclassmen. Pioneer senior Christina Uytingco said she has benefited greatly from pihi.info. Whether Pacifico is posting standardized testing schedules, college application information, or Naviance (software that has tools for college preparation) information, Pacifico makes sure to have the backs of the upperclassmen. 
"Being a senior, this account has been a huge help with college applications and learning the ins and outs of Naviance," Uytingco said. 
Running the pihi.info page has been a rewarding experience for Pacifico, noting that it "feels good helping a lot of people." But there is no question for her that it can be an awful lot of work, and sometimes a little stressful. Knowing that people are counting on her, she said, "It's a lot of pressure, because some people actually rely on me to tell me their deadlines."
Indeed, adding to the stress of running the page, Pacifico has faced difficulty in managing her time to balance a heavy amount of schoolwork, college applications, and now her account. Pacifico even does weekly video updates, which are very time-consuming but useful to her followers. "They take up most of my time, because I write a script, take almost an hour to film, and then spend an hour and a half editing it," she said.
Her efforts are far from going unnoticed, though. 
"Her content is extremely good quality; all the videos and posts she makes look professional," said Malcolm. 
Another bonus of pihi.info is how well it replaces an important aspect of in-person school: The morning announcements. 
"In a regular in-person school year, morning announcements remind all students of deadlines and activities," said Uytingco. "I think that the pihi.info account has effectively mimicked that through a social media platform." 
Gabby Pacifico and her creative way to ease the stress of the Pioneer student body has been a big sigh of relief  for many, but the question of its end still remains indefinite. Pacifico has already thought a lot about next year, when she is hoping to be at college either in the Midwest or on the East coast. 
"I'm hoping that a junior would be willing to take over after I graduate. I would ask for applications or something like that," said Pacifico. 
Although she isn't sure if the account will even be necessary once in-person school resumes, she has big plans for it if another student takes the helm. 
"If I do have someone take over for me, I would want them to be a rising senior. I think it would be nice to start a tradition where a senior runs the account because seniors are the oldest and have the most high school experience," said Pacifico."I would start training them in the last quarter of the school year. I would teach them how to really look for information and how to talk to people in a certain way."
When that goal is achieved, she hopes pihi.info will continue to keep Pioneer students well-informed for the foreseeable future.
"All I ever wanted to do was to help people get the information they need to have a great year, despite us being in a global pandemic," said Pacifico.