Freshmen runner Rachel Forsyth shows promising future
In just her first season, freshman Rachel Forsyth has won eight out of the nine cross country meets she has competed in. With three more years still left in her high school career, the future of Pioneer Women's Cross Country is looking bright. 
"I was really happy with my season," Forsyth said. Despite Covid-19 looming as a threat over the entire Cross Country season, she was able to remain focused and perform at a consistently high level, winning dual meets, the South Eastern Conference, pre-regionals, and regionals itself. "I got third at one of the dual meets because I was sick and got second at the state meet," Forsyth said. Her record as a freshman exceeded many people's expectations.
"Rachel had an extremely successful season this fall," Pioneer Cross Country Head Coach Nancy Shafer Boudreau said. 
Junior Cross Country runner Cookie Baugh agreed. "Rachel had a phenomenal first season as a Pioneer. She proved a lot about her skills and worked hard doing so," she said. 
Yet, at the same time, Forsyth's success did not come out of the blue. Both of her parents were successful runners at the University of Michigan. Her eldest sister, Anne Forsyth, ran for Pioneer and now runs at Michigan as well. And her second eldest sister, junior Sarah Forsyth, who holds multiple records at Pioneer herself from three outstanding seasons continues to be an aspiring and encouraging teammate. The love of cross country runs deep in the Forsyth family, and that shared love is one of the many reasons Rachel began her cross country career several years ago. 
"My parents and my sisters all ran, so I knew it was something I wanted to try," Forsyth said.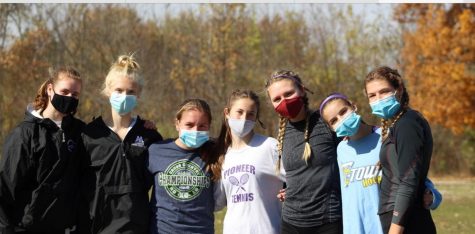 Forsyth started running in sixth grade for Slauson Middle School's cross country and track team. 
"I had done a few races before 6th grade, but no training or anything serious," Forsyth said. Despite her rather late entry in the sports and little experience, she became one of Slauson's top runners. 
Her natural talent did not go unnoticed. 
"I have followed Rachel's running career since she was in the sixth grade," Coach Boudreau said, adding, "So I knew she would be pretty good and a very valuable member of our team when she arrived." 
Having already made a name for herself as one of Pioneer's most promising young runners, Forsyth's enjoyment of her first season also came from her fellow teammates.
"I think my favorite part of cross country is my team. We have a really strong bond and the environment is really positive," Forsyth said. "The whole team works together to make each of us better. When one person has an amazing race, we all congratulate them." 
Like any sports team, the Pioneer Women's runners have certain rituals and routines before competing, such as taking an evening ice bath before each meet, and listening and dancing along to music before races.                         
The entire Pioneer Women's Cross Country team ran a very competitive 2020 fall season with its annual share of accomplishments. 
"This year, we won every race except for SEC's, which was very upsetting for us. However, we immediately came back the next race to prove who we are as a team, and soon after competed to win our 5th regional title in a row," Baugh said. 
With Covid-19 restrictions and Pioneer's track being rebuilt over the summer, their season got off to a rough start, but quickly turned around once the girls started competing. They ended their season with their second State Championship win in a row.  
"Overall, it was an amazing season, filled with tons of new experiences. Honestly, we were very lucky to get the opportunity to race," Baugh said. 
Forsyth looks forward to the three more years in high school with hopes of competing at the college level. 
"I would love to run in college," she said.
That goal is definitely within reach, given her talent, her history of success, and the amazing results of her freshman season, says her coach.
 "As long as Rachel can stay healthy, I think she will continue to improve as she gets older and more experienced. She should continue to get stronger and have more self-confidence," Boudreau said. 
As the next few seasons look promising for Forsyth, many look forward to seeing just how far she can go in the sport. 
"She definitely has a bright future ahead, and I could not be more proud of her," Baugh said.