The fall of 'Among Us'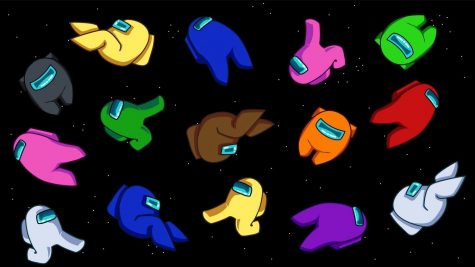 The video game "Among Us" had a sudden and massive surge of popularity mid-2020 during quarantine, surpassing 217 million downloads by November. Unfortunately, due to the game's basic design not lending itself well to prolonged interest and the small developing team being unable to create quick updates, the buzz has died down considerably since then. "Among Us" will only continue to fade.
"Among Us" was made by InnerSloth, an extremely small company that only recently gained a fifth member. "Among Us" is a multiplayer game of social deduction in which players are assigned the role of either Impostor or Crewmate at the beginning of each round. The basic idea is that Crewmate players need to either finish all their tasks or vote off all the Impostors in meetings to win, while Impostors win by blending in with the Crewmates and killing enough of them without getting discovered and voted off. The game was first released for free on mobile in June 2018 and PC in August of the same year. After leaving beta, where the game was publicly playable but still undergoing major bug testing and development, the PC version was sold for $5. The game barely garnered any attention initially. According to SteamCharts, even six months after its initial release, the game only had an average of 8.2 players.
By June 2020 the game managed to break 500 average players. "Among Us" then got thrown into the spotlight by Twitch streamers discovering the game, with the Twitch category averaging an impressive viewership of 204,000 as well as 3,500 concurrent streams by September 2020. People were hooked. It's fun to try and figure out how each round will play out, even by just watching, and the game has a layer of comedic entertainment value in it even without the addition of a streamer's humorous commentary.
But "Among Us's" statistics on Twitch have been going down since then. In January of this year, it held a significantly smaller average concurrent viewership of only 42,100–about 20% of the previous September's–corresponding with the decrease of average concurrent streams to 888. As "Among Us" became less "new" and exciting, and streamers and viewers alike dropped the game, so did the game's popularity on Twitch. "Among Us" player counts have also seen significant drops. According to Steam Charts, "Among Us" held an average of 151,000 players in September 2020 and decreased 73% to about 42,000 players by  the new year. Looking at how the statistical interest has declined so dramatically within just months, "Among Us" is almost certainly set to become irrelevant.
Updates seem to be a good way for a video game to remain relevant. It's how "Minecraft" has remained popular since 2011 with its continued content updates. A good part of people's enjoyment of "Among Us" has come from having several different maps to play on. Two of the current three maps came in updates a year after the game's initial 2018 release and a fourth map, titled "The Airship," has been teased to be released soon, so it would appear that the development team's tactic to maintain popularity is through content updates.
Simply having updates, though, is not a guarantee of continued popularity. A detractor from the game is that possible behaviors of players on any map remain limited and therefore predictable due to the simplicity of the game. At the end of the day, the excitement in "Among Us" is supposed to be based around human behavior and its unpredictability, but as common strategies and behavioral trends become apparent over time, the games hold less tension.
Additionally, part of the initial allure of "Among Us" was the simple gameplay, which made it easier for players of all gaming skill levels to get into, but this also meant it was easier for people to drop the game due to the lack of longer-term progression goals. The basic concepts of "Among Us" are not well suited for maintaining interest over prolonged lengths of time, and so even new content updates will probably not save its popularity enough to truly keep it notable.
The final indicator for the fall of "Among Us" is the progression of COVID-19 vaccinations and the easing of social isolation practices. COVID quarantining has generally given people more free time to play or watch video games on their electronic devices for personal entertainment. Social distancing has also made it more difficult for people to hang out with their friends and satisfy their desired amount of social interaction, so that, too, has almost certainly contributed to the amount of people gaining interest in "Among Us," since the game is based around social behavior and interaction.
As vaccines are distributed and restrictions are lifted, more people are going to use their time to go to outdoors and visit friends rather than staying inside to play video games. "Among Us" was brought to such high heights of popularity because of quarantine, and the end of quarantine practices will most likely bring its end in the gaming world. 
"Among Us" undeniably made its mark in 2020, and other game developers have probably taken notes from its success. However, its design works better for short-term playing, meaning its popularity will continue to fade since it seems to have reached its peak. Perhaps in the future, a new game will appear that is better designed to maintain popularity in the long-run while remaining incredibly compelling to its audience.