A review of the 'Comfy': A quarantine necessity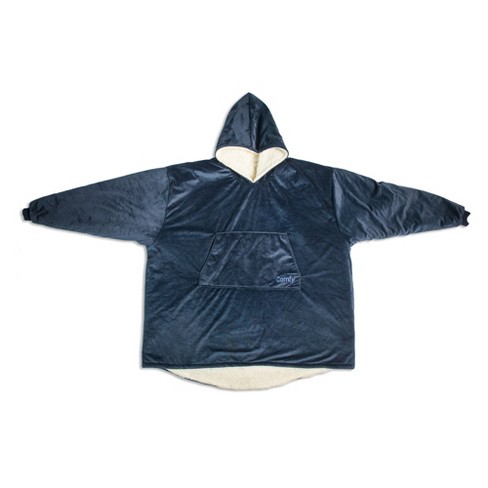 Flailing around hopelessly like a beached whale in my ever-so-messy pile of clothes, I've always struggled finding the perfect outfit combination to wear to school each day. But as the days spent stuck at home for online learning melted one into another, and I frequently found myself reaching towards the same set of clothes I'd worn for the past week, I came to an important realization: Above all else, comfort is the key component of everyday clothing. 
I don't mean just regular sweat-set-comfy; I mean aggressively massive, fleece-lined blanket comfy, the kind of comfy that leaves you with no choice but to snuggle up with a good book or TV show and a warm mug of hot chocolate, watching as specks of snowflakes drift down from a grey sky outside the window. There's one product I've been living in day in and day out that hasn't failed to achieve this unsurpassed level of comfort: A huge, wearable, fleece-lined blanket by The Comfy. Large enough to cover both myself and my sixty-pound Goldendoodle, with room to spare, wearing this gigantic, pillowy-soft layer of fleece is akin to receiving a warm embrace from a loving relative. I swear this is the single most comfortable piece of clothing I have ever had the privilege of possessing. 
Founders Brian and Michael Speciale, the two constituents of The Comfy Bros, first introduced this ingenious idea in a December 2017 episode of Shark Tank. Pitching their product to the tune of "Deck the Halls,"  the two Phoenix-based brothers scored a $50,000 investment with business magnate Barbara Corcoran in exchange for 30% equity in the company. 
Since then, the product has been sold into 70 countries around the world and is popping up in major retail chains as well. It's been met with high regard from consumers, boasting a 4.8/5 star average from nearly 30,000 consumers on Amazon. And with good reason. Aside from the unparalleled comfort this hoodie presents, its overly baggy, potato-sack-like profile doesn't restrain mobility, and remains quite versatile across all facets of quarantined life. Zooming, eating, gaming, and working, I do everything in this sweater. Heck, you can even sleep in it.
Soon enough, long, cold months will loom near, bringing with them gloomy skies, chilly air, scarce sunlight, and an inevitable wave of the winter blues. In that time, I urge you to get your hands on one of these luxuriously comfortable hoodies to brighten up your days. I promise you won't regret it, and will soon find yourself thriving within the embrace of a cloud-like softness. Take it from the creators themselves: "Whether you're a man, woman, or child, you put on a Comfy and you say, 'Where have you been all my life?'"