Mold discovered in Pioneer theaters disrupts Music Department and PTG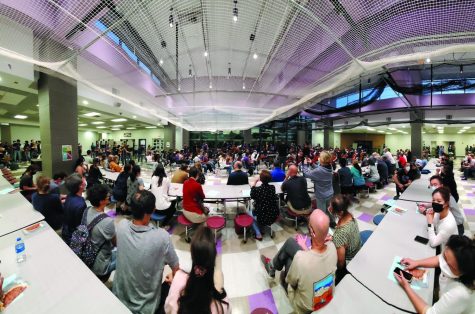 Mold discovered in the Schreiber Auditorium and the Little Theater has forced their closures for at least a year, leaving Pioneer's musical ensembles and theater guild searching for other performance venues. 
In a statement sent out to Pioneer staff, the district said that the possibility of mold was brought up in August and that the theater spaces were closed to staff and students upon confirmation of the mold's presence
David Leach, director of Pioneer Bands, speculates that the mold developed due to the measures that the district took in order to help prevent the spread of COVID-19.
"We're pretty sure what happened was that when [the district] opened up the air system to bring in fresh air to lower COVID, that added a lot of moisture in the air," said Leach. "The theater spaces had those systems running all summer and so were moist spaces. All the humidity in the air clung to the soft surfaces and mold grew everywhere. It had a good time."
While the district expects mitigation to be completed by October, all soft surfaces in the theaters must be removed and replaced in order to restore the theater. The district is also taking this as an opportunity to renovate the theater which includes repainting the theater floors and implementing new lighting.
Leach says he is glad that the district has decided to do renovations along with the mitigation but hopes the renovations won't be delayed.
The loss of the Pioneer's performance spaces has left its award-winning music programs searching for a replacement. 
After the district's announcement, Leach immediately started looking for an alternative performance venue, one that is preferably close to home. 
"I reached out to Skyline, within 15 minutes of [the district] saying that I could reach out to someone," said Leach. "They came up with a process, to make sure that we're all set to get our concerts up until December in the Skyline space. If that doesn't work, I'll start looking for other locations. I'd like to be close to Pioneer, though."
Despite the challenge that this has created, Leach has an optimistic outlook on the situation. "I'm a big fan of positives," he said. "There's no sense in crying over spilled milk. Let's move forward and see if we can try and find a good space."
Pioneer Orchestras originally planned to have their fall concert on Oct. 4 outside the school but resorted to the cafeteria and annex due to poor weather conditions. For the following winter concert, they have confirmed to use Skyline High School's auditorium and are currently in the process of looking at other venues for future events.
"I think it's a little disappointing we can't play [in Schreiber], especially because it's our senior year," said Abby Stephan, a viola player from the orchestras. "But I get that there's nothing that the Music Department can do about it. I'm not personally too upset because I know we have other opportunities to play at pretty cool locations."
Pioneer Theater Guild faced the deepest predicament. While their production of "Les Miserables" will be performed at Huron, the guild struggles with their current space for rehearsals. 
Suri Doepfer, a student in all of the groups affected, Pioneer orchestras, choirs, and theater, says that PTG rehearsals require ample space for practicing movements and choreography which the orchestra room––that is currently being used for rehearsals––does not provide. 
All of the equipment for the production that needs to be moved creates even more complications for PTG, Doepfer added, and when the guild gets closer to the performance, the transition will require various new adjustments.
"The lights and sound system people will have to learn an entirely new setup because our setup is the one they're used to, and every place is a little bit different because of the different technology," said Doepfer. 
Most especially, however, the visual components of the production from costumes and props to sets that were designed for Pioneer's Schreiber structure, along with the the show's pit orchestra, will have to be built or transported in a new fashion.
Meanwhile, the bands and choirs are prohibited from playing instruments or singing for more than 30 minutes in the same space to prevent COVID spread. Both had been planning on utilizing the much larger Schrieber Auditorium as the second venue to practice for the entirety of class, while still indoors. The loss of the auditoriums forced them to abandon that plan. 
"We either have to go outside, or we need to just sit there and not talk," said Doepfer. "We've been doing rhythm exercises and music theory, but that's not sustainable. We can't have only half a rehearsal everyday."
Doepfer is frustrated with the lack of information regarding the theaters. She sys that even teachers have been giving contradictory information. 
Jonathan Glawe, director of Pioneer Orchestras, and Mysti Plummer, Pioneer Theatre Guild's adviser, were asked for an interview but directed all questions to the district's administration. 
"I understand that the district wants to have a solid base of information before they tell us a ton, but it has been a bit infuriating to get little bits of information here and there and not know the cause of things. I'm getting a lot of different information," Doepfer said.
Like Stephan, Doepfer says that losing Schreiber as the performance venue for her senior year is upsetting, but the situation has a silver lining.
"I see this as an opportunity for us to branch into the community and discover new spaces where we can perform," she said.