Detroit-Ann Arbor regional bus service restored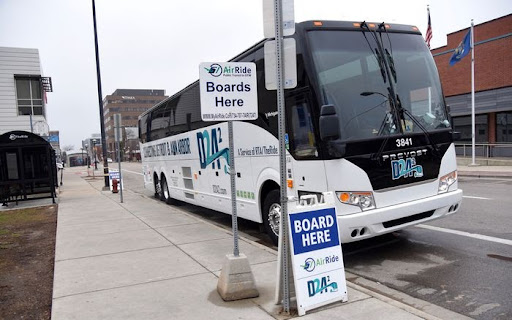 Students looking for live venue concert action will be happy to learn that traveling between Ann Arbor and Detroit just got a whole lot easier as the Detroit-Ann Arbor Express Bus Service, or D2A2, began running again on Oct. 18 after long delays related to the COVID-19 Pandemic.
The Regional Transportation Authority, a four-county government agency that handles transit planning and cooperation, announced that service between Blake Transit Center in Ann Arbor and Grand Circus Park in Detroit would finally resume. The service will not stop at the popular Rosa Parks Transit Center, near the corner of Cass and Michigan, because of congestion concerns at the station.
The RTA, in coordination with Ann Arbor's Ann Arbor Area Transportation Authority and coach operator Michigan Flyer, began initial operations in March 2020, but the service was suspended two weeks into its initial run due to the Coronavirus pandemic.
Express buses were proposed as part of a pilot program in early 2020 with the goal of increasing connectivity and transportation links between two of the region's primary economic powerhouses. Until now, the only public transit services between Ann Arbor and Detroit were high fare services like Amtrak's Wolverine, Greyhound, and Michigan Flyer airport express buses.
"Now that our workforce is returning in person and entertainment venues are welcoming fans back, we are extremely excited to announce the restart of the service," said RTA Interim General Manager Ben Stupka in a press release. "Our board, staff, and transit partners worked hard to make this return possible; it's time for the return of D2A2." 
Laureen Medzagoh, a junior who describes herself as an avid concert goer, said she cannot wait to take public transit into Detroit. "I'm very excited about it," said Medzagoh. "We got all the concerts in Detroit, we have Drake, Lil Baby, Lil Durk, we got all these people coming, so I really cannot wait, it's literally a great idea."
Similarly, junior Mihir Naik is excited for the start of D2A2 buses as well. "If I ever go into Detroit and I don't feel like driving, I'll definitely use it."
The new service will usher in an era of relatively affordable connections between Detroit and Ann Arbor. One-way fares will be $8 if purchased at the boarding area and $6 if purchased in advance through the system's website, www.d2a2.com. A $50 fare book good for 10 trips, as well as discounted fares for students and seniors, are provided. Buses will run in both directions between 5:45 a.m. and 11:00 p.m. on weekdays, while limited services will be offered on Saturdays and Sundays.
D2A2 buses will be operated by Michigan Flyer, which already operates the popular AirRide service between the Blake Transit Center and Detroit Metropolitan Wayne County Airport. Michigan Flyer is a public-private partnership owned by intercity bus company Indian Trails. These coaches feature reclining seats with arm and footrests, as well as WiFi. Overhead storage for bags and bike storage are also provided.
"I think there should be more services like this, and it's a huge step in the right direction," said junior E.V. Bowden. "It's just more convenient to get on a bus that goes straight to Detroit instead of one that makes multiple stops. It is pretty exciting, but there needs to be more of it."