Same name, same initials, same life story: Vail and Van Appledorn have more in common than just teaching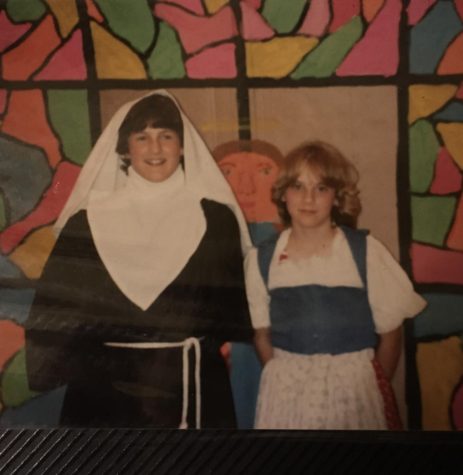 Everyone knows that Pioneer Humanities teacher. The one who graduated from Northwestern. The one who attended Pioneer herself and took Humanities as a senior. The one named Amy. However, now more specifics are required to describe this person after the new social studies addition to the Humanities team. Amy Lynn Van Appledorn recently joined Amy Lynn Vail in teaching Humanities at Pioneer, and the two share a unique friendship. 
The similarities between these two teachers do not stop there. Vail and Van Appledorn first met each other when they were in elementary school, when Vail moved in two doors down from Van Appledorn. 
"Amy moved in the middle of fifth grade. They used to call me Amy and her 'the other Amy,'" said Van Appledorn. 
It did not take long for the two to become friends. After quickly learning that they had the same name and initials, they realized they had more in common.
"We both loved to play sports," said Van Appledorn. 
  "It was a time when it wasn't cool, like it is now, to be a girl interested in athletics," said Vail. "I always remember when I was going to meet a girl I would be nervous because they would want to paint their nails and talk about boys, but I would just want to kick a soccer ball around." 
The two Amys quickly bonded over their shared interests. "Every recess, Amy and I would play sports with a bunch of boys. When we would be picked for teams people would just say 'one of the Amys,'" said Vail. 
Their friendship continued to remain strong throughout their childhoods. "In fifth and sixth grade we were inseparable. We had similar interests and we were both kind of nerdy," said Van Appledorn. 
"I don't think there has ever been a time in my life where she hasn't been one of my favorite people," said Vail. 
The two ended up going to Pioneer High School together where they both took Humanities, which sparked their mutual interest in the subject matter. Eventually, they both came back to Pioneer, teaching the class that was so fundamental to their lives. 
"It was such an eye-opening class, and it really became foundational for me. I often feel like I have a legacy to live up to," said Vail. "That's something so cool about teaching with Amy; we both went through that experience together and it was so important to both of us."
Vail and Van Appledorn have enjoyed the opportunity to reminisce over their time at Pioneer while teaching together. Recently they shared a video with their Humanities students of a project that they made over 30 years ago for their own Humanities class. 
"Watching their video was Incredibly entertaining and I loved every second of it," said Pioneer senior Jennifer Jang, a current student in Humanities. "It was funny to see that much of their dynamic hasn't really changed. I feel like even without going on looks I could immediately identify who was who."
The fact that Vail and Van Appledorn both took Humanities at Pioneer and have been friends for so many years has been intriguing to many students. 
"When I first heard their story I thought they were practically fated to be friends. It reminded me a lot of me and my friend who met around the same age they did. It makes me wonder what we'll be like in the future if we maintain our friendship." said Jang. "I always enjoy whenever teachers openly talk about their personal lives, it helps strengthen the relationship students have with them." 
Vail and Van Appledorn's separate journeys to becoming teachers and ultimately ending up back at Pioneer have many parallels as well. Both teachers studied at Northwestern after high school, and both went to play sports. Coaching was where they found their love of teaching. 
"I loved sports and my coaches had a great deal of influence on who I was. I always wanted to do that too. I got a job coaching softball and I absolutely loved it. It was so much fun to work with young people," said Van Appledorn. After getting a degree in history and a teaching certificate from Northwestern, Van Appledorn came back to Ann Arbor to teach at Huron. 
Similarly, Vail played field hockey and lacrosse at Northwestern. Coaching for a local team was what sparked her desire to teach. "I knew I always loved English class my whole life, but it was the coaching that made me realize I loved working with young people," said Vail. "I loved working with teenagers, I loved the way they thought and their energy. When I came back here I started coaching the lacrosse team at Pioneer. Once I started on that path I realized I could have it all." 
Both Vail and Van Appledorn knew that the humanities were a subject they wanted to continue with. However, they didn't start working together until recently. While Vail was the Humanities department head at Pioneer, Van Appledorn led the Humanities department at Huron. After a recent teacher retirement, there was a perfect opportunity for Van Appledorn to come teach with her childhood friend. 
"I did like being at Huron, but I really like being at Pioneer too. And getting to teach with Amy has been the highlight years of my career. It has renewed my energy," said Van Appledorn "I felt so lucky. It was like the stars aligned when this position ended up being available." 
Van Appledorn started teaching at Pioneer online starting the school year of 2020-2021. 
"This year is our first year really teaching together. But even online, and this is true of the whole (Humanities) team, we were such an emotional support for each other," said Vail. "That was what got me through, and Amy was a huge part of that. It was nice to have this person who has been an anchor for me my whole life. I was so lucky."
The other Pioneer Humanities teachers have noticed the positivity that working with 'the Amys' has brought to their team.
"Working with both of the Amys has been one of the highlights of my career," said Jonathan Glawe, the music history teacher for Humanities. "Their chemistry as friends as well as colleagues of ours, it's really refreshing to know you can have two people you can count on any time to be honest with you and present their material with integrity." 
The relationship Vail and Van Appledorn have had only made the group stronger. "I've been on the team for six years. We've been through two retirements of other teachers, but when the Amys came together there was a whole new light. The team in general has been stronger and more connected than I have ever seen," Glawe said. 
Vail and Van Appledorn both appreciate the opportunity to work together. 
"She's one of those people who maybe you go a year and a half without seeing them, but then when you do you pick up the conversation exactly where it left off and there's no pauses. I think it's just awesome that we both ended up in Humanities," said Van Appledorn. 
Although there are numerous random coincidences and similarities these two teachers share, their greatest commonality is their love for the humanities. 
"Looking at civilization throughout time, who we are and where we are going, (gives us) perspective on ourselves, and I think that it's really important," said Vail. "I used to feel almost guilty about (teaching) it, like I was getting away with doing something that I loved every day," said Vail. 
Van Appledorn shares this feeling. "I feel so lucky that I get to teach this. I feel like I have been given a great gift, and I don't take that gift for granted," she said. 
Both teachers plan to continue teaching together, and hope to inspire their students to feel the same passion for the humanities that they do. 
"The more I keep going the more I realize how important this is. If we don't keep asking ourselves what it means to be human and we don't put that front and center then other outside forces are going to decide it for us, and I don't want that. It's not a frivolous set of questions," said Vail. 
"I cherish it and I cherish every kid in this classroom, they are like special treasures," said Van Appledorn.  "I hope they leave this class thinking about the big questions, and can see the world in a way that would have been invisible otherwise." 
Overall, one thing is for sure: Amy Lynn Vail and Amy Lynn Van Appledorn were meant to teach Humanities at Pioneer together. 
"I've known Amy forever and to get to know her as a fellow educator has been so fun," said Vail. "Here's my childhood friend who I have all these memories with, but then here she is as an educator with all of this knowledge and wisdom. I'll have these moments where I can't believe I'm teaching Humanities at Pioneer with Amy Van Appledorn, but then the other part of me is like, well of course that is what happened."