Project Period club expands its reach beyond the school
Period health is a long-neglected topic that has finally started to see attention from student groups around Ann Arbor. Leading this cause for Pioneer High School is Project Period, a student-run school club that "fundraises to help compromised communities gain access to menstrual products," says club President Lana Smith.
Project Period has seen incredible success over the past year with their efforts to recruit new members, spread awareness, and make long-lasting changes to the communities around us. "This is great, as we have more people learning about menstrual poverty, and why the work we do is so important," said Smith.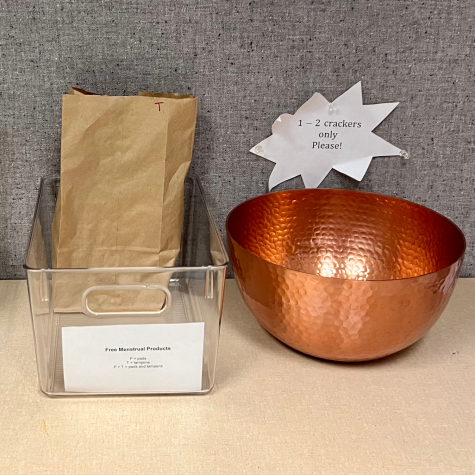 Last school year, Project Period focused on providing menstrual products for students at their own school. Smith explains, "The club's objectives were much more straightforward." This started by stocking Pioneer bathrooms with dispensers containing menstrual health products. "These dispensers allow for the access of products with just the push of a button, requiring no payment to use," says Smith. 
In addition, the club, along with the help of Pioneer school Nurse Lauren Huissen put together kits for "menstruating students who rely on the school" to take home during school breaks, says Smith. Huissen provided the space for the students, although "[Project Period] definitely led the way," she adds.
According to the website Medical News Today, globally, an estimated 500 million women lack access to menstrual products and hygiene facilities.
There are an estimated 16.9 million women living in poverty in the United States. Research found that almost two-thirds of women in the U.S. with a low income could not afford menstrual products in the last year, while nearly half sometimes had to choose between buying food or menstrual products.
As of June 2019, 35 states in the U.S. taxed menstrual products at rates between 4.7%, in Hawaii, and 9.9%, in Louisiana. Last November, Michigan Gov. Gretchen Whitmer signed two bills that repealed the sales tax on menstrual products in the state.
With the initial goals of providing for Pioneer students accomplished, the club has found useful and creative ways to expand its outreach to other communities. For example, Smith notes that Project Period volunteers have "reached out to Ann Arbor public middle schools and are planning to install dispensers where needed."
Unsurprisingly, the first step in expanding their efforts is securing the proper funding. "As one might imagine, the amount of money required to keep up with our goals grows as our club's initiatives do," says Smith. "This means that much of what we do is fundraising."
In the past, the club has run various sales and fundraising events at Pioneer, recognizing that those efforts have been limited within the school. The club is currently looking towards setting up an account to receive donations. "We want to give people a chance to support us without having to buy from a sale," says Smith.
Smith explains that helping other schools involves not only the installation of well-needed dispensers but also requires funds to manage the upkeep of these dispensers. Along with the focus on dispensers, Smith says the club has been "donating products to communities and organizations in need."
Partnering with Water Aid at Pioneer, for example, Project Period is aiming to raise money for the construction of a bathroom at a school in rural Pakistan. This "will allow young girls to manage menstruation and continue going to school," states Smith.
Despite the many advancements that Project Period has made in the Ann Arbor community, responses from students are "fairly mixed," according to Smith. "When people hear about us, many get the wrong idea, thinking that we spend our meetings talking about periods and not doing much of anything else," says Smith. "In reality, that's hardly the case."
Project Period is always looking for new members and volunteers to help out. "Those who are interested in helping out or learning more about Project Period should come to a meeting," says Smith. The club meets every Wednesday in room C223 during club lunch.
Going into the future, Smith says she is very excited to see what comes next. "We have been hard at work to help as many people as we can. Being able to see this work pay off will always be incredible."