Senior Spotlight: Kane aims to make a difference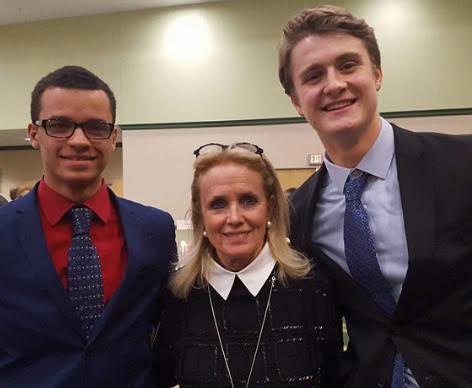 Hang on for a minute...we're trying to find some more stories you might like.
While many at Pioneer are somewhat politically active and others enjoy the lack of responsibility being young allows, senior Marquan Kane refuses to sit on the sidelines and wait his turn.
"I saw a lot of despair, and I knew I couldn't wait until after college to make an impact," he said.
Many people urged him to focus on himself, given that Kane has led a challenging life, but he decided to fight the social ills he faces so others in similar situations may benefit. Kane explained that he has had a very challenging life.
"There's a lot of drug addiction in my family and from a young age I witnessed people close to me overdose," he said.
Kane has also faced homelessness as a result of domestic violence and economic troubles.  "I was born homeless, because we had to hide from my father, and throughout my life there have been several other periods of homelessness," he said.  Kane knows too well the absolute anguish these situations caused for his family and himself. Kane says he developed post-traumatic stress disorder because of these experiences, which led to anger management issues.
"I used to shoplift and I was kicked out of school almost everyday," he said.
Kane knew he couldn't continue down this path, but it wasn't until his junior year that he realized the importance of shedding light on the ills he and his family — and so many others — face.
"I was in AP economics, and we were talking about for-profit prisons," he said, and it stirred in him a desire to learn more. Kane notes he will be the first person in his family not to be incarcerated, and he knew he couldn't waste that.  "So I started attending town halls, and then I started speaking about issues like the 'school-to-prison pipeline,' mental health, and climate change," said Kane.  He says his activism is a way to make up for his past behavior.
While Kane is not boastful regarding his activism, some Pioneer students have taken notice.  Fellow senior Mary Manley says, "He's the only person I've ever seen legitimately drop his stuff in the store and voluntarily carry groceries for an elderly person, or give all the food in his bag to the homeless — even when he didn't know where his own next meal was coming from," she said.  Another friend, senior Saeed Ebrahim, describes Kane as a rare breed.  "There aren't too many people like him anymore, he really cares about the issues he speaks about and does anything he can to help," Ebrahim said.
Kane has become incredibly independent, creating a curriculum outside of school.
He has received a lot of fruitful job opportunities, including an internship with Michigan Sen. Gary Peterson.  Kane was recently appointed to the Michigan Committee on Juvenile Justice where he will represent people under the age of 24 who are under the jurisdiction of the juvenile justice system.  Among his other activities, Kane speaks at conferences, town halls, and rallies.  Recently, he spoke at the "Die-In" for gun control on March 3 in Ann Arbor, and the student organized walkout on March 14.  He discussed incarceration and violence, in addition to gun control.
Henry Taylor, a senior and fellow student activist, says Kane will positively impact the world more than anyone might yet know.  "His future is something that I, along with many others, are watching eagerly," said Taylor.
Kane says that he is interested in seeking office in the next 10 years, but hopes to attend law school first.  "I see myself becoming a community organizer, attending the University of Michigan, and I plan to study political science, and eventually graduate from law school," says Kane.  He says that he'd like to attend either Yale or Harvard for law school, or another equally prestigious university.