'17 grad Harris has 'faith' his fashion brand will continue to grow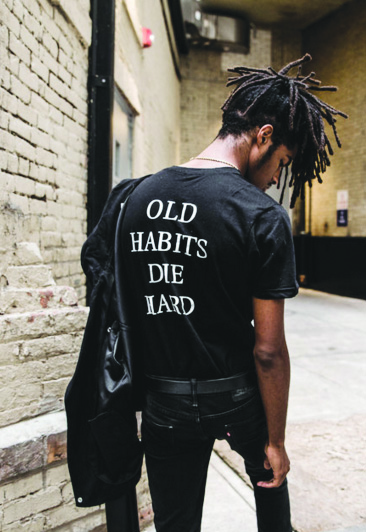 Hang on for a minute...we're trying to find some more stories you might like.
High school is a time to experiment with different activities.  It gives students the opportunity to discover their passion before adulthood sets in.  2017 Pioneer graduate Tylan Harris says he discovered his passion early in his high school career.  "I started making clothes in the summer of 2015," he said. "My first piece was a pair of black Levi jeans. I didn't have any money to buy a new pair so I found an old sewing machine in my grandma's basement and learned how to sew on YouTube."
Harris says that fashion helped him work through some typical teenage angst and attracted him to a profession in fashion. "I'm a skinny boy and fashion helped me get rid of my insecurities," he said. "I use clothes to literally cover my insecurities."
Harris started his brand, Stable-Faith, in 2017, but experimented with design ideas for quite a while before that.  He started a brand called "Victims of Society" in April 2016, where his first product was a pair of blue reflective jeans which he sold for $120 on Twitter. With a bit of experience under his belt, Harris began Stable Faith.
"In February 2017, I shut down 'Victim,' because I grew out of it and I realized I wanted to do this for my life," he said.  Harris ultimately decided to rebrand professionally under Stable Faith. "I started Stable Faith with $60," said Harris.
Since his initial investment Harris has put out two collections and three capsules (a condensed version of a designer's collection). He made a profit of $45,000 in the last year, which is all the more impressive considering Harris produces his pieces in his home.
"I made $45,000 during 2017 and I put it back into my brand," he said. "I keep enough to pay my bills and the rest of the profit goes into my business."
Harris admits he has worked hard for these early successes. "I work full time and I don't have anyone else help me because I don't trust anyone; I'm very particular," he said.
He hopes his hard work and original designs will earn him admission to the Council of Fashion Designers of America.  "I want to be in the CFDA, it just makes sense for me," he said.
Harris will be attending the Fashion Institute of Technology New York in the fall and hopes that will lead to a prosperous career in fashion.  "I'll be spending the next few years in New York studying," he said. "I have my decision letter pinned up on my wall."
Pioneer English teacher Bret Trocchio taught Harris during his senior year. Trocchio said Harris' incredible enthusiasm was obvious. "Since it was an English class there weren't many opportunities to show off artistically, but Tylan was great at motivating people and had really killer interpersonal skills," he said.
Senior Jackson Northrop, who is friends with Harris and wears many of his original pieces, agrees. "He's always had the knack, he's always super energetic, and super passionate about his brand," Northrop said.
Harris is rapidly moving upward and not showing any signs of stopping. Interested parties can find — and purchase — his brand, Stable Faith, at www.stable-faith.com.
And Harris has a message for his fellow Pioneers:  "Don't let your art be defined by your achievements or failures. Art is more than the money and awards. There is no better reward than seeing your creation come to life."